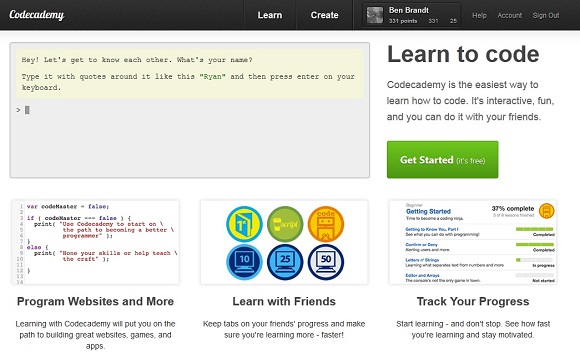 Looking for a great way to learn some programming? Codecademy is an awesome place to start! Right now they only have lessons for JavaScript and HTML/CSS, but Python is coming soon and more are sure to follow!
There are lots of lessons to work through, and you can type in the code right in your browser and have it checked on the fly. If you get stumped, there are tons of people willing to help in the Q&A forums. You get started with some cool coding and projects right away, and get to learn by doing, which is really the best way to learn. Before you know it, you'll be coding your very own Black Jack game or even make a working cash register!
And, with each set of lessons you complete, you get a cool little merit badge, which makes the old Boy Scout in me happy!
So if you've wanted to learn how to code, but didn't know where to start, this is a great resource! When you do, check out my profile, and send me yours. I'd love to learn some coding with you all!